Bangkok's bustling business districts of Silom and Sathorn offer a wealth of incredible dining experiences.

(French) When French butcher Arnaud Carre opened his doors in 2015, he hit upon an unbeatable recipe: well-cooked steaks at reasonable prices. Diners' orders are taken in the butcher's shop next to the restaurant before they are ushered into the convivial dining room, which recalls a makeshift provincial French bistro. You no longer need to wait three weeks for a table, but it is still advisable to book ahead for a plate of Arno's hearty Thai-raised, wagyu-crossbred beef.
Other branches: Suan Phlu, Thonglor, Wireless Rd.
2090/2 Narathiwas Soi 20, 02-678-8340. Open daily 11:30am-11pm.
(French) The arrival of Joel Robuchon in Bangkok is no longer the talk of the town that it once was but the experience at L'Atelier remains nothing short of exceptional thanks to the consistency of Head chef Olivier Limousin. Not only are the dots of cauliflower cream in your Imperial caviar in lobster jelly as exquisitely realized as at every other L'Atelier in the world, there's also a surprising wholesomeness to much of L'Atelier's menu. A whole dover sole is pan-fried in butter then plated with nothing more than a wedge of lemon, some beans and a side of mashed potato. A duo of Bresse pigeon and foie gras comes wrapped in rich, glistening pastry. A bowl of snails, wild mushrooms, iberico ham and pine nuts is the sort of thing you'd curl up with in front of a fire in the chilly Normandy countryside.
5/F, MahaNakhon Cube, 96 Narathiwat Ratchanakarin Rd., 02-001-0698. Open daily 11:30am-2pm, 6:30pm-10pm.
(Thai) Lately, reliable five-star hotel dining has fallen out of favor with the type of Bourdain-like foodie intent on ferreting out squalid holes in the wall. But there is always something to be said for an elegant Thai restaurant that turns out carefully-crafted renditions of traditional Thai favorites alongside creatively modern degustation menus featuring seared foie gras with tamarind or basil ice cream with a salty meringue. Not surprisingly, the service, presentation and decor are similarly five star.
Dusit Thani, 946 Rama 4 Rd., 02-200-9000 ext. 2345. Open daily 6-10pm; Mon-Fri 11:30am-2:30pm.
(International) Birds does one thing and does it beautifully: chicken. Chef Jeremy Tourret (formerly of El Mercado and L'Appart) is a permanent fixture behind the corrugated iron kitchen bar, where he presides over the roasting of chicken so moist and soft that we had forgotten it could be this good. You'll want the super-tasty—and generous—chicken Caesar salad to go with, as well as one of the best-priced house whites around.
Soi Amon, Nang Linchi Rd., 095-594-6675. Open Tue-Fri 5:30-10:30pm; Sat-Sun 11:30am-3pm, 5:30-10:30pm.
Exclusively for Citi credit card members:
Get 10% discount on food and non-alcoholic beverages Today - 28 Feb 19
(Italian) If there was ever a restaurant that looked as if it came straight out of an Italian food movie, this is it. The hustle of the servers, the wood-fired red brick pizza oven, the parade of well-coiffed waiters are all sure to delight customers, but the main draw is obviously the pizza, made from dough that has rested for 72 hours. Expect a fun night out in a convivial setting punctuated by Italy's greatest culinary hits.
139/3 Sathorn Soi 7, 02-286-8805. Open daily 11:30am-2:30pm, 5:30-11pm.
(American) Defying convenient culinary categorization, this stylish eatery hidden behind a Brutalist concrete facade produces season-driven dishes that play with both Western and Southeast Asian flavors. Arnie Marcella, a native New Yorker, drives a kitchen that excels in foodie-wowing ingredients such as scallops with green strawberries and the foie gras dumplings, while drinks are augmented by Wareewan Yodkamol's inventions—reason enough why the city's fashionable still pack the stone-and-copper-touched dining room.
118/2 Sathorn Soi 12, 092-563-9991, 02-234-7749. Open daily 5:30pm-12am.
Exclusively for Citi credit card members:
Get a complimentary dessert of your choice valued THB 450 when dining with 3 persons or more for dinner (limit 1 dish / card /table /sales slip) Today - 28 Feb 19
(Italian) A wine cellar that's the envy of the town meets rustic-yet-refined Italian cuisine at this stately old home in Sathorn. Chef Nino Scognamillo gives nods to his hometown of Sicily in produce-driven dishes that brim with home comforts: best-of-the best imported cold cuts, wholesome pastas and wickedly good grilled meats. It's little wonder a spot on the cozy outdoor terrace (complete with petanque court) can be hard to come by.
22 Sathorn Soi 1 Yaek 2 (Goethe), 02-287-2402. Open daily 11:30am-midnight. MRT Lumphini.
Exclusively for Citi credit card members:
Buy 1 get 1 free for desserts from selection when spending via Citi credit cards Today - 28 Feb 19
(Chinese) Beloved of big-haired aunties, the original opening from Hong Kong-born chef Man Wai Yin (Chairman and M Krub) sets the dim sum bar high. Setting it apart from the big imported chains is interesting Thai touches found in the likes of the Peking duck with slices of ripe mango. The oozing lava buns still can't be beaten.
Other branches: Thana City Sports Club, Ratchadamri
3/F, Eastin Grand Sathorn, 33/1 Sathorn Rd., 02-212-3741, 02-212-3789. Open daily 11am-2:30pm, 6-10pm.
(Turkish) Head chef Fatih Tutak's grand tasting-menu ambitions take on a cuisine rarely experienced in fine-dining surroundings—Turkey. Tutak may have missed out on Michelin glory, but his inventive cooking moves from produce-driven (four Kyoto tomatoes in parsley granita) to down-to-earth (flavor-packed Turkish eggplant dumplings) to show-stoppingly satisfying (red pigeon in a rich splash of summer berries). The location in a tastefully modernized, colonial-style mansion remains as majestic as the day it opened.
106 North Sathorn Rd., 02-344-4025. Open daily 6-10:30pm.
Exclusively for Citi credit card members:
Special price THB 2,800++* for Signature Journey from THB 3,800++* *Price is exclusive of VAT and service charge. Today - 31 Dec 18
Eat Me (INTERNATIONAL)
(International) The long-established restaurant of chef Tim Butler and founder Darren Hausler makes some of the most creative and flavor-packed dishes in town. Open since 1998, the dining room feels as special as ever, while dishes like the Kumamoto oysters in a Champagne granita or clams in a lime broth with naem sausage play with bold flavors while paying total respect to the produce. It's all served up in a manner that's conducive to sharing and good times.
1/6 Soi Phiphat 2, Convent Rd., 02-238-0931. Open daily 3pm-1am.
(European) While you'll still find some of Europe's most-prized beef cuts dry-aing in the showpiece chiller, Il Fumo has moved from upmarket steak-house to purveyor of fine-dining tasting menus. Head chef Nelson Amorim brings the food culture of his native Portugal into dishes like kokotxa (the fatty underpart of a cod's jaw) in a carbonara sauce, while all the grilling takes place on open flames using house-made charcoal. Being from the Vesper team, the cocktails are exceptional.
1098/2 Rama 4 Rd., 02-286-8833, 097-170-6260. Open daily 5:30pm-midnight. MRT Khlong Toei.
(French) This reliable French standby tucked away in a secluded side-street has been churning out sturdy renditions of French classical favorites for decades. Here, consistency is the name of the game: well-executed plates of bistro favorites such as souffles and salt-baked fish, as well as, of course, steak tartare prepared tableside. The comfortable surroundings set inside a repurposed colonial-style house with a charming courtyard make this restaurant a steady draw for European expats and Francophile Thais.
6 Soi Convent, 02-235-3268. Open daily 11:30am-10pm.
(Thai) Amid the splendor of a beautiful old mansion reinvented with bold colors and wallpapers, chef Ian Kittichai (TV personality, cookbook writer, restaurateur) constructs menus that reinvent Thai classics using premium produce. A whole Maine lobster adds protein to a classic kapraow (here made with cumin leaves, not basil), while a condensed presse of crispy-on-the-outside-moist-in-the-middle veal cheek sits in a mild gaeng kua (red coconut curry). Its position in Asia's 50 Best Restaurants makes it one of the city's most-checked-in venues.
4 Soi Sri Aksorn, Chuaphloeng Rd., 02-672-9040-1. Open daily 11:30am-2:30pm, 6-10:30pm. MRT Khlong Toei.
(French) One of the most respected chefs in Europe, the artistic Jean-Michel Lorain of La Cote Saint Jacques in Burgundy chose Bangkok as the setting for this "eclectic fine-dining" experience, where top-notch culinary innovation won it a Michelin star last year. The kitchen, headed by chef Amerigo Sesti, gives French classics some Asian twists, while the dining room, run by Lorain's daughter Marine, emphasizes a "lounge"-style feel accentuated by an unusual "upside down" interior design concept.
U Sathorn, Sathorn Soi 1, 02-119-4899. Open Wed-Sun noon-2:30pm, 6-10pm; Mon noon-2:30pm, 6-10pm.
Exclusively for Citi credit card members:
Get 15% discount on food only (except lunch set menu and special menu by Chef Jean-Michel Lorain) Today - 31 Dec 18
(Thai) Since bursting onto the scene in 2015, chef Thitid "Ton" Tassanakajohn has become synonymous with modern Thai cooking. Follow-up restaurants Baan and Backyard by Baan have since played the comfort-food card, while a stint as judge on Top Chef Thailand has reinforced Ton's reputation for meticulous detail. But it's back at his original restaurant, with its contemporary reinterpretations of Thai classics, that his creativity comes to the fore. Across four- or six-course tasting menus, chef Ton applies techniques picked up at Michelin-star restaurants in the U.S. to Thai food, with extra emphasis on seasonality. Local produce, sourced from suppliers nationwide, provides the backbone for dishes like a deconstructed pad kaprao made with strips of 30-day dry-aged tenderloin, barley and a sous-vide egg or a hefty river prawn daintily accompanied by pork belly jam. Topping it all off, Ton is also himself a certified sommelier with a taste for organic and boutique outfits.
399/3 Silom Soi 7, 092-919-9969. Open Mon-Sat 6-11pm.
(Chinese) This ultra-fine-dining restaurant sees Hong Kong-born chef Man Wai Yin (Chef Man, Chairman) confound the Chinese traditionalists with French plating and culinary techniques. Dining here means booking in advance so the restaurant can ensure every course of your highly seasonal meal (whether Japanese sun-dried abalone, Chinese cabbage consomme or lobster cromesquis) is perfect. Lunch is dedicated to a considerably more affordable take on dim sum.
2/F, Mahanakhon Cube, 96 Narathiwas Rd., 02-019-8105. Open daily 11:30am-3pm, 6-10pm. BTS Chong Nonsi.
(Japanese) The Thai outpost of famed "Iron Chef" Masaharu Morimoto of Nobu in New York specializes in the type of fusion-y Japanese cuisine that Morimoto has become world-famous for. A well-heeled coterie of wealthy tourists and expats on expense accounts dine in a soaring Scandinavian-influenced dining room on the signature toro tartare, which comes to the table with nori paste and caviar, hamachi tacos with avocado, and of course, the sushi rolls.
4/F, MahaNakhon Cube, 96 Narathiwat Ratchanakarin Rd., 02-060-9099. Open Tue-Sun noon-2:30pm, 6-10:30pm; Fri-Sat 6pm-midnight.
(Thai) The flagship restaurant of Western Thai-food champion David Thompson now stands under the stewardship of new head chef Suraja "Jan" Ruangnukulkit. Jan keeps up Nahm's stellar reputation for sharing, family-style Thai menus that move with local seasons. Dishes constantly adapt as Nahm's chefs come across esoteric new ingredients, whether it's a sour leaf for the coral catfish curry or a wild mushroom to turn into soup.
Como Metropolitan, 27 Sathorn Rd., 02-625-3388. Open daily 6:30-10:30pm; Mon-Fri noon-2pm.
(Asian) This unusually-named eatery is not a factory, but a stylish restaurant that focuses just as much on its creative cocktails. Part of the burgeoning culinary empire of chef Ian Kittichai, the dining room is set in a shocking-pink century-old house that originally served as the home of an aide-de-camp to the royal court. Fun-loving diners, meanwhile, can expect Pan-Asian tapas.
401 Silom Soi 7, 02-636-6622. Open daily 5pm-1am. BTS Chong Nonsi.
Exclusively for Citi credit card members:
Get a complimentary Kaffir Lime Pie valued THB 280++ when spending THB 2,000 or more /sales slip (limit 1 dish / card /table /sales slip and excluding VAT and service charge) Today - 31 Jan 19
(Italian) There is a reason why this stylish restaurant has remained such a consistently popular hotspot for the city's corporate movers and shakers. Owner and wine expert Alex Morabito—formerly of Vino di Zanotti—ensures the house-turned-eatery retains a homey feel with its leather seats and light, glass-fronted facade. The kitchen, too, serves reliably solid traditional Italian cooking. The star of the show, however, is the more than 400 Italian wines.
64 Pan Rd., 02-637-9899. Open daily 6pm-midnight. BTS Surasak.
Exclusively for Citi credit card members:
Get a complimentary tiramisu valued THB 290++ when spending via Citi credit cards (limit 1 dish /card /table / sales slip) Today - 31 Oct 18
(Seafood) It's easy to forget that this no-frills eatery is one of Bangkok's most beloved places for fresh seafood. Featuring the wares of longtime seafood importer Bill Marinelli, the oyster specialist gets its mollusks twice weekly from North America and changes its menu depending on what's seasonal, so freshness is guaranteed. The staff is knowledgeable and the wine list is well-padded enough to accompany the parade of crab, lobsters, mussels and clams.
395 Narathiwat Ratchanakarin Soi 24, 02-212-4809. Open Mon-Sat 6-11pm; Sun noon-2:30pm, 5:30-10pm.
(Italian) Once the definition of posh Italian dining (see Top Tables 2014's Top 10), La Scala now has a new look that's thrust it back into foodie consciousness. Out go bronze and terracotta in favor of light creams with red and black accents that tip a hat to Milan. But it's head chef David Tamburini's delicious pastas using fresh-from-Italy ingredients and perfectly roasted carne that really count.
The Sukhothai, 13/3 Sathorn Rd., 02-344-8888. Open daily noon-3pm, 6:30-11:30pm. BTS Chong Nonsi.
(French) Not many wine bistros straddle the line between quality and affordability quite so effortlessly. Sweeping, 47th-floor views of lower Silom and the river set the tone for well-executed comfort food, from bang-for-baht pasta dishes up to some of the finest cuts of meat around. Those views call for a big, bold cabernet sauvignon to match.
37/F, Pullman Hotel G, 188 Silom Rd., 096-860-7990. Open daily 6pm-1am. BTS Chong Nonsi.
Exclusively for Citi credit card members:
Get 10% discount on food and non-alcoholic beverages for Citi ULTIMA, Citi Prestige and Citi Preferred card members (Sun-Thu) Today - 28 Feb 19
(Italian) Everything about Sensi is on an exceptional level, from the humble and approachable service to the beautifully plated food with the occasional flourish. Opt for the generous a la carte portions or—and we highly recommend this option—the five-or-eight-course tasting menus. Either way, you'll get to sample some incredible produce.
Narathiwat Ratchanakarin Soi 17 Yaek 5, 02-117-1618, 02-676-4466. Open Mon-Sat 5:30pm-midnight. BTS Chong Nonsi.
Exclusively for Citi credit card members:
Get a complimentary dessert valued THB 340++ when spending via Citi credit cards (limit 1 dish /card /table /sales slip, except special events and blackout dates are applied) Today - 31 Jan 19
(Thai) Well-executed Isaan food in a more polished setting isn't a groundbreakingly novel idea, but few places do it as well as this friendly eatery in the central business district. Owner Thanaruek Laoraowirodge (also of Supanniga Eating Room) brings the strong, vibrant flavors of his native Khon Kaen to Bangkok with the help of chef Kornthanut Thongnum, resulting in a parade of varied som tam, laab and tom sab that rival anything to be found on the street.
Other branch: Thonglor Soi 17
5/5 Sala Daeng Rd., 02-632-4499. Open daily 11am-2:30pm, 4:30-10pm. BTS Sala Daeng.
(German) Twin German chefs Thomas and Mathias Suhring left Lebua's long-established Mezzaluna, opened a restaurant dedicated to German fine dining on Yen Akat Road, and created a local sensation. No. 1 in Top Tables in its guide debut; and still no. 1 a year later. If you had access to how our panel voted, you'd also see that their win is a walkover. Dishes such as brathering hausfrauenart and pfannkuchen are hardly duck confit and spaghetti carbonara in the familiarity stakes. But if the way Suhring renders them is anything to go by, then they should be. (The first, FYI, is a traditional German preparation for herring that the Suhrings serve with stunning simplicity, while the second is a sublime dough filled with truffle cream.) Skip the a la carte (Speisekarte) and dive straight for one of the tasting menus—Klassiker for hits like the upmarket takes on currywurst and pork knuckle, or Erlebnis for the chefs' most up-to-date creations.
10 Yen Akat Soi 3, 02-287-1799. Open daily 5:30pm-9:30pm.
(Mediterranean) There's only one thing that remains the same at this North-Africa-meets-Mediterranean restaurant as when it traded as Vesper: Sicilian-born head chef Francesco Deiana. Now though he plays with flavors drawn from North Africa, Spain and Southern Italy—carrots roasted in cumin and harrisa, lamb shoulder tajine, balls of sumac-spiced crabmeat. The dining room's explosion of turquoise, orange and vibrant tiles ensures a fun time.
Convent Rd., 02-236-5558. Open daily 5:30-11pm; Mon-Fri noon-2pm. BTS Sala Daeng.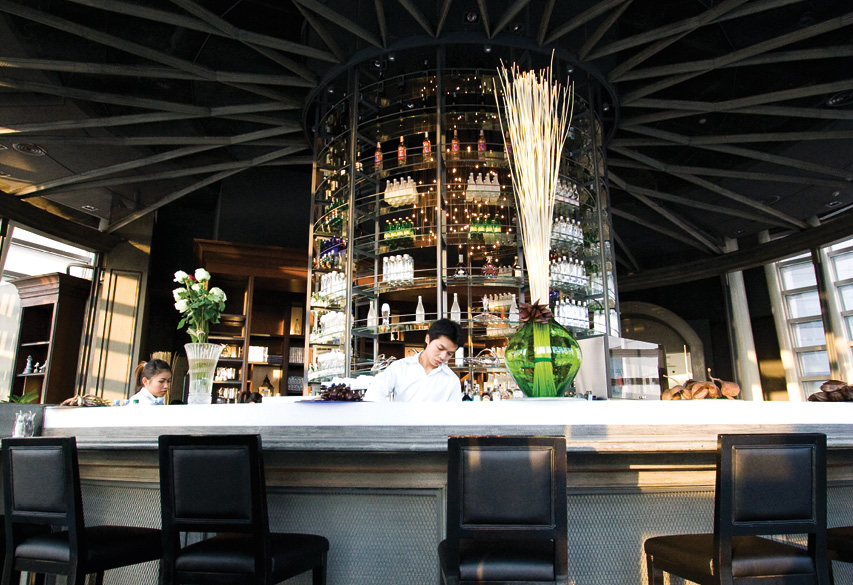 (International) Though he keeps a lower profile than many Bangkok chefs, German Mirco Keller remains one of the city's top kitchen hands. At the Water Library flagship, he serves contemporary fine dining with occasional Asian twists: scallop is paired with coriander and coconut; Bresse pigeon comes with eggplant bao; pork belly meets dumplings and ginger. This all coexists with a traditional menu for the less adventurous. Though the restaurant sits at the back of a mall, its vast central water cellar conjures a genuine sense of occasion.
2/F, Chamchuri Square, Rama 4 Rd., 061-852-5411, 095-085-7777. Open daily 11:30am-2:30pm, 6-10pm.